Taking a fastidious approach to our vineyards, we work with the land to grow consistently beautiful fruit, allowing the unique characteristics of each vineyard to express themselves.
The Single vineyard range is sourced from each of our six vineyard sites around the Valley, using the most site-expressive fruit from that year's vintage.
The Yarra Valley range showcases the best of the Yarra Valley as a region.
At the heart of our winemaking ideology is an alliance between nature and science. We work at our unique gravity flow winery, guiding the wine from grape to glass with minimal intervention to preserve the qualities of each Yarra Valley vineyard.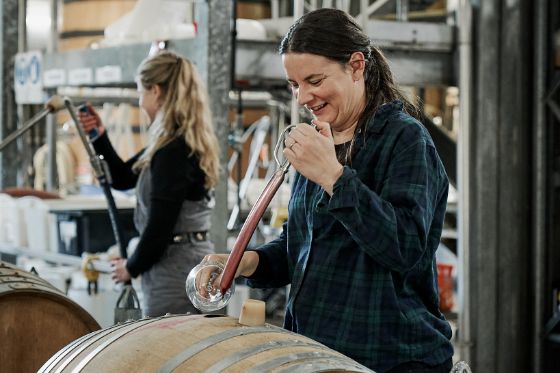 Applejack Vineyard is a special site, located on a dramatic slope in the upper Yarra Valley and is closely planted and fastidiously managed. It was planted by respected viticulturist Ray Guerin in 1997. The basalt based underlying volcanic soil and rock produce a characteristically fine yet extended, spicy and firm palate. The higher altitude results in a cooler and extended growing season, ideally suited to Pinot Noir and Chardonnay (3-4 weeks later than central Yarra Valley). This vineyard joined the Giant Steps family of Single Vineyards in 2013.
Location: Gladysdale
Elevation: 320 metres
Aspect: East-facing
Size: 12.5 hectares
Planted: 1997
Soil Type: Grey / brown clay loam
Wines from Applejack Vineyard
Located on the steep slopes of the Warramate Ranges, alongside the vineyards of iconic Yarra producers Yarra Yering and Coldstream Hills, the Sexton Vineyard is in one of the most revered pockets of the Valley. Being well up the Range's north-facing slopes, topsoil is thin and root systems have established themselves in shallow gravelly loams above a tough, rocky clay base.
Bunch yields set naturally low in this environment, resulting in intensely flavoured fruit with high skin to juice ratio. The predominant clones are GinGin and Mendoza which produce hens and chickens (large and small grapes on the same bunch), which results in high white tannin and phenolic content to balance the citrus flavours.
Location: Gruyere
Elevation: 130 – 210 metres
Aspect: North-facing
Size: 30 hectares
Planted: 1997
Soil Type: Grey clay loam
Wines from Sexton Vineyard
After discovering Yarra Valley wines 25 years ago Lou Primavera planted this elevated vineyard in Hoddles Creek in 2001. We have a long-standing relationship with the Primavera family, having sourced fruit from the vineyard for some years. From Pinot clones MV6 planted on north slope 115 and G-clone on south slope, the Primavera Pinot is fragrant and floral.
Location: Woori Yallock
Elevation: 240 metres
Aspect: North & north-east facing
Size: 12 hectares
Planted: 2001
Soil Type: Red clay loam
Wines from Primavera Vineyard
Located in a protected valley, Tarraford Vineyard has a discreet microclimate that is cooler than neighbouring sites. A diversity of aspect and clone provides multifaceted winemaking opportunities.
Although located in a warmer part of the valley, the Chardonnay slope is south facing and produces Chardonnay with high natural acids (and low pH) expressing itself through its characteristically long palate, fine tight structure and a zesty lemon/grapefruit finish.
Location: Tarrawarra
Elevation: 100 metres
Aspect: North, south and east facing slopes
Size: 8.5 hectares
Planted: 1998
Soil Type: Grey clay loam
Wines from Tarraford Vineyard
Wombat Creek Vineyard is the highest altitude vineyard in the Yarra Valley, making it an ideal location for the production of extreme cool climate wines. The vineyard was originally planted in 1988 with the intention of producing base wine for sparkling production but over the years has transitioned to Chardonnay and Pinot Noir for table wine. The underlying ferrous (red) based volcanic soil and rock produce a distinctively soft yet long and firm palate, that contrasts with the finer palates seen from the nearby Applejack Vineyard (basalt based volcanic).
Location: Gladysdale
Elevation: 410 metres
Aspect: North-east facing
Size: 16 hectares
Planted: 1988
Soil Type: Volcanic loam (red / ferrous)
Wines from Wombat Creek Vineyard
Situated in the Upper Yarra Valley in the sub-region of Gladysdale, Bastard Hill is a 31-hectare property with 13-hectares (32 acres) of vines, planted exclusively to Chardonnay and Pinot Noir. The vineyard's expressive name is derived from its steep slope and high altitude, ranging in elevation from 300-400m.
Bastard Hill is a celebrated site planted in the late 1980s by viticultural legend Ray Guerin. Dedicated initially to the production of super-premium sparkling wine, the site was quickly recognized for its potential to produce top quality still wines, releasing the Bastard Hill Chardonnay and Pinot Noir wines in the 1990s. Regarded as one of the great Chardonnay sites in Australia, the vineyard was also historically a source for Hardy's Eileen Hardy Chardonnay. We look forward to making our first Bastard Hill Single Vineyard under the Giant Steps label in 2023.
Location: Gladysdale
Elevation: 400 metres
Aspect: North and south facing
Size: 13 hectares
Planted: 1986
Soil Type: Volcanic loam (red / ferrous)
Wines from Bastard Hill Vineyard
New Wines to be Launched June 2024
Coal River Valley, Tasmania
The Coal River Valley lies over the Meehan Range East of Hobart and rolls down to the Southern Ocean; remote and wild are the images conjured up when visiting this pristine agrarian region, first farmed in the early 1800's.
Our Pinot Noir is farmed by our grower partners in the Coal River Valley and made in our winery in Healesville.
In our obsession with Single Vineyard Pinot Noirs from great Pinot growing areas around the world, we have gone as far south (and as cold) as you can go in this country. Despite the cool temperatures, the sunlight hours are long and intense and we are intrigued by the depth of palate and colour that is possible from this landscape. While it is made with the Giant Steps gentle winemaking approach, the result is clearly a world apart in terroir.
Location: Meehan Range
Aspect: North-east facing
Size: 34 hectares
Planted: 1999
Soil Type: Calcareous & Triassic sandstone
Under Vine: Mv6, D5V12
Wines from Coal River Valley
Wines from the Yarra Valley Range