Our crew is the no-guts, no-glory type, as eclectic and determined as the sites we farm. All share a love of the land on which we farm and great cool-climate wine!
Melanie Chester joined Giant Steps as Head of Winemaking and Viticulture in 2021. She came to Giant Steps from Sutton Grange Winery in Central Victoria, where she was Head Winemaker.
Melanie completed her studies in Viticulture and Oenology at the University of Adelaide, where she was the recipient of the Wolf Blass Prize for Excellence in Winemaking (2011) and the David Bradley Memorial Prize (2012), indicating the promise of an outstanding contribution to the wine industry. Her wine industry experience spans diverse estates such as d'Arenberg in the McLaren Vale, Charles Melton in the Barossa, and Quinta do Crasto in Portugal's Douro Valley.
Prior to her appointment at Sutton Grange, Melanie was Winemaker at Seppelt Wines in Great Western where she became a sought-after wine show judge, including for the Royal Melbourne Wine Awards where she currently serves as panel chair.
In 2014, Melanie became the youngest ever scholar selected for The Len Evans Tutorial. In 2015, she was named Young Winemaker of the Year by Gourmet Traveller WINE magazine, and in 2018, Melanie was recognized by Young Gun of Wine as the People's Choice award winner for favourite winemaker.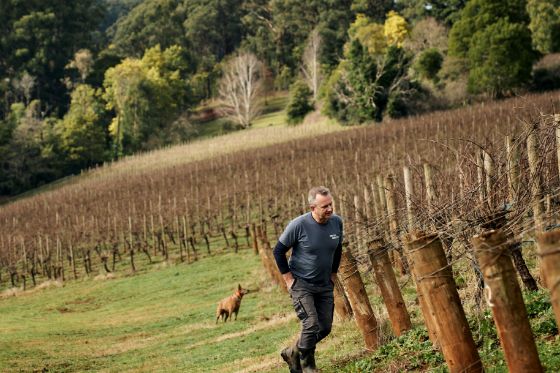 Viticulturist Ash Wood joined Giant Steps in 2020 after an impressive 25 years in viticulture within Australia at Devil's Lair, Southcorp, Fosters, Treasury Wine Estates, and Cape Mentelle.
Ash is Western Australian born and bred, growing up near the Swan Valley surrounded by vineyards. Travel overseas to France stimulated his interest in wine, and he studied Viticulture at Charles Stuart University while working his first vintage with Phil Sexton at Devil's Lair in 1996.
Ash manages the viticulture team at Giant Steps and his perfectionist streak makes him the ideal custodian of our beautiful Single Vineyard vines and land.
After pivoting from a career in civil engineering, Jess entered the Masters in Oenology program at University of Adelaide, spending a year at California's UC-Davis and gaining experience at Napa Valley's Dana Estate.
In addition to working harvests across Australia, Jess has worked in Germany and France – in Burgundy at Domaine Dujac, and in Alsace at Hugel.
Back in Australia Jess worked at Tapanappa Wines in the Adelaide Hills before being drawn to the Giant Step's single vineyard program, joining winemaker Steve Flamsteed at Giant Steps in 2019. Her philosophy to "refine, refine, refine" brings precision to the wines, describing the approach to identifying sites and conveying them in a wine as "art meets science." Most recently, Jess was one of nine scholars to receive the prestigious Royal Sydney Royal Wine Professional Development Scholarship, which she is directing towards studies in Advanced Viticulture in collaboration with the Australian Wine Research Institute.
Michael joined the Giant Steps team in June 2021 after winemaking stints in Tasmania with Pipers Brook and the Hunter Valley (Tyrrell's, Mount Pleasant, Pepper Tree). His love of good wine and travel has taken him to work at vineyards in the Northern Rhône, Burgundy and Oregon.